:
GCEO's Serving Georgia Safely Plan
The GCEO office has implemented a "Serving Georgia Safely" plan in response to the COVID-19 pandemic. GCEO encourages all visitors to utilize our online services during this public health emergency. In-person appointments are available.
Henry County Issues Proclamation to GCEO's Fair Housing Division Proclaiming April as Fair Housing Month
rsz_gceo-hc-photo-min.jpg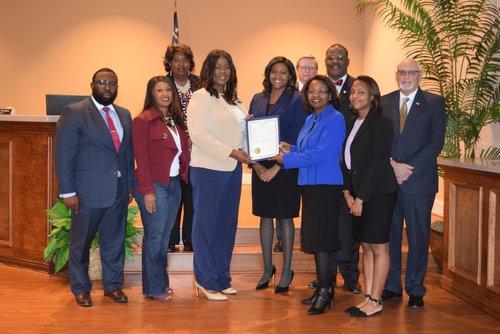 The Henry County Board of Directors presented a Proclamation in honor of GCEO's Fair Housing Division on Tuesday, April 2, 2019 at 9:00 am. The Board of Commissioners proclaimed April as Fair Housing Month for Henry County. 
The following GCEO Staff Members attended the Board of Commissioners meeting and are pictured with the Henry County Board of Commissioners: Shawnzia Thomas, Executive Director, Allona Cross, Fair Housing Division Director, Maurice Foster, Senior Compliance Officer, and Briana Wilburn, Fair Housing Compliance Officer.