:
GCEO's Serving Georgia Safely Plan
The GCEO office has implemented a "Serving Georgia Safely" plan in response to the COVID-19 pandemic. GCEO encourages all visitors to utilize our online services during this public health emergency. In-person appointments are available.
GCEO & DCA Host Fair Housing Conference
gceo-pr-1-250px.png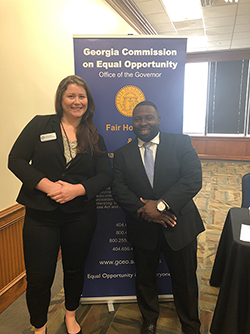 On Tuesday, April 25, 2019, GCEO & DCA partnered to host a Fair Housing & Accessibility Training Conference. The guest presenters were E&A Team Inc.'s, very own, Mark English and Scott Moore.
E&A Team Inc.'s presenters covered the latest topics in fair housing and accessibility. Over 80 participants attended the one day training and received a 5 hour course certificate for their participation.
GCEO & DCA Host Fair Housing Conference - Related Files