:
COVID-19 Preparedness Plans
In an effort to protect citizens and staff, the GCEO office is closed through April 30th, 2020 in response to the COVID-19 pandemic. GCEO encourages all visitors to utilize our online services during this public health emergency. 
GCEO & the EEOC Conduct Joint Education & Outreach for Gwinnett County Schools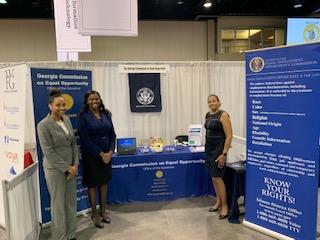 On Tuesday, October 22, 2019, the Georgia Commission on Equal Opportunity & the U.S. Equal Employment Opportunity Commission conducted joint education & outreach for Gwinnett County School's Career Connections Exhibition at the Infinite Energy Center.
Nearly 5,000 students in Gwinnett County Public Schools were exposed to careers to help them navigate their high school, college, and career decisions. The students toured the exhibit halls which included over 100 business partners. The students received an opportunity to interview employers and participate in career related activities.