October 29, 2019
Jazmyn Frye Promoted to Director of Equal Employment for GCEO
img_7587.jpg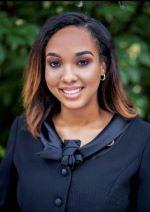 On September 15, 2019, Jazmyn Frye was promoted to be the Director of Equal Employment for the Georgia Commission on Equal Opportunity where she enforces the Georgia Fair Employment Practices Act and manages the Equal Employment Division.
Prior to becoming the Equal Employment Division Director, Jazmyn served as a Compliance Officer in the Fair Housing Division. She also served as an Administrative Hearing Officer with the Georgia Department of Labor.
Jazmyn received her Juris Doctorate from Capital University Law School, where she received various awards, including the Floyd D. Weatherspoon Endowed Scholarship for Equal Justice, David D. White Scholarship, and John Mercer Langston Bar Association Scholarship. She has served as a Law and Leadership Institute instructor teaching high school students from underserved communities about the court system, criminal procedure, constitutional rights, and the appeals process. Additionally, she has worked as a law clerk for Chris Harbold & Associates, and Franklin County Public Defender's Office.
Prior to law school, Jazmyn volunteered her time tutoring economically disadvantaged children through both the Big Sister Little Sister Program, and the Women of Perfection Organization.  While tutoring economically disadvantaged children, she realized she wanted to serve deprived communities by being a role model and giving a voice to those who are under-represented in the legal community. She hopes through her legal career to build bridges that would unite the under-represented with the represented. 
Jazmyn Frye is a native of Columbus, Ohio. She received her undergraduate degree from Fisk University. While at Fisk, she was a member of Phi Beta Kappa; Lambda Iota Tau, selected into the W.E.B. Dubois Honor Program, and graduated Summa Cum Laude. She is also a member of Alpha Kappa Alpha Sorority, Incorporated.